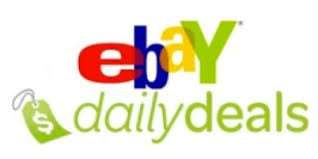 "Unlocking the Best eBay Deals and Discounts: Your Ultimate Shopping Guide"
Online shopping has revolutionized the way we shop, providing convenience and access to a vast array of products at our fingertips. eBay, one of the pioneers in the e-commerce industry, is a go-to platform for both buyers and sellers. The platform offers a plethora of items, from electronics and fashion to collectibles and rare finds. To make the most of your eBay shopping experience, you'll want to be well-versed in eBay deals and discounts. In this article, we'll guide you through the tips and tricks to score the best deals on eBay.
Smartwatches up to 70% off
Shop eBay refurbished smartwatches.
Tips to get great ebay Deals and Discounts
eBay Daily Deals and Discounts: Start Here
eBay's Daily Deals section is a goldmine of discounts and special offers. These deals are time-sensitive and can include a variety of products. Check the Daily Deals and discounts regularly to snag limited-time discounts.  Visit eBay's official "Deals" page, which often features a selection of discounted items and promotions. You can find this page by going to the eBay website and looking for a "Deals" or "Daily Deals" link.
eBay Coupons and Promo Codes
eBay often provides coupon codes and promotional offers. Look out for these on the eBay homepage or through their email newsletters. These codes can provide discounts on specific items or your entire purchase.
Utilize eBay's Best Offer Feature
When you find an item you want to purchase, don't hesitate to use the "Best Offer" feature. This allows you to negotiate the price with the seller. It's a great way to potentially score a better deal.
Watch and Wait with Your eBay Watchlist
Keep an eye on items you're interested in by adding them to your eBay Watchlist. Sellers may drop prices or offer discounts to encourage buyers to make a purchase.
Shop eBay Auctions Wisely
Auctions on eBay can be a fantastic way to find unique items and potentially secure them at lower prices. However, be cautious not to get carried away in a bidding war and end up paying more than you intended.
eBay Seller Promotions
Sellers on eBay sometimes offer promotions such as "buy one, get one" deals or discounts on combined purchases. Explore seller profiles and their store pages for exclusive offers.
eBay Bucks Rewards Program
Enroll in eBay's rewards program, eBay Bucks, to earn rewards on qualifying purchases. These rewards can be used as discounts on future eBay purchases.
Free Shipping and Shipping Discounts
Look for items with free shipping or sellers offering shipping discounts, especially if you're buying multiple items. Shipping costs can significantly impact the overall price of your purchase.
Bundle Purchases
Consider buying related items from the same seller to take advantage of combined shipping discounts. This can save you money in the long run.
Be Patient and Set Price Alerts
If you're not in a rush to make a purchase, set up price alerts for items you want. eBay will notify you when the price drops to your desired level.
eBay's Seasonal Sales and Events
eBay often hosts seasonal sales events, such as Black Friday, Cyber Monday, and holiday sales. Mark your calendar for these opportunities to score substantial ebay deals and discounts.
Shop eBay Outlet Stores
eBay has outlet stores from various brands and retailers. These stores often offer significant discounts on brand-new, high-quality items.
 eBay is a treasure trove of deals and discounts waiting to be discovered. By using these strategies, you can optimize your eBay shopping experience and potentially save a substantial amount of money. Whether you're a seasoned eBay shopper or a newcomer, these tips will help you make the most of your online shopping journey on this popular e-commerce platform. Happy shopping and enjoy your savings!
We are ebay affiliates and we get compensated for sales through our link at no cost to you.